Serger Sewing Machine
How To Use a Serger
My Newest Serger Purchase
The serger sewing machine you see above is the newest in my fleet of sewing machines. I love this serger. When I was scouting out for the latest and greatest in sergers, it was a toss up between the Baby Lock Image and the Janome 1200D. These machines are both highly rated, but the Baby Lock has features I really loved. One of them was the auto tension and jet air threading feature.  If I could have afforded both, well, I would have bought both, but that wasn't a reality for me. I am extremely happy with my choice. 
Baby Lock Imagine Serger Sewing Machines
The feature that sold me on the Baby Lock Imagine was the jet air feature. At the time of purchase, Baby Lock was the only company that had this feature, now you can find the jet air threading feature on the Janome, and Juki, as well.
PS. I am not affiliated with Janome or with Baby Lock. This is just an honest review of my purchase. 
The serger sewing machine is also known as an overlock machine, it first made its way to the home sewer in the early 1980's. 

Previous to that, the overlock, was used one hundred years earlier, in 1880's in clothing manufacturing.
The average home version overlock sewing machine, sews 900 to 1500 stitches per minute, depending on the make and model.This makes light work of all your projects.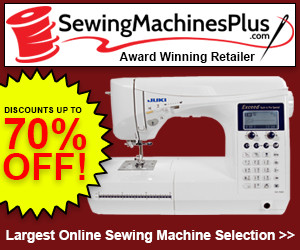 Althought the overlock is not essential to have in your sewing room, it is certainly a helpful machine to have working side by side with your regular machine.
My First Serger Sewing Machine
This was my very first serger I purchased about 30 years ago. I was so happy to have it, I can't tell you how much I used it. It still works but I don't use it any more as I have two other sergers that are used constantly.
The serger sewing machine offers fast completion of seams and decorative stitches, as well as a more professional looking project. So if you can afford to add it to your team of tools it is highly recommended.
Like the sewing machine, there are many makes and models to choose from.
Recommended Serger Sewing Features
Like most things that are mechanical, it can be overwhelming to understand what all the features mean. The serger is no exception, you may be wondering what features you need and is it worth the extra money. As with anything, personal preference is key, but I will list some features that I have found helpful in my 30 + years of using a serger. 
Auto Tension: Not all sergers have this feature, but if you have tried to change the tension dials from sewing on a light weight fabric to your next sewing project of sewing denim, you will understand why auto tension is an amazing feature. 
Jet Air Threading: This is an amazing feature, I have fought with my older sergers for threading the loopers, especially when you are using wooly nylon or decorative threads that are difficult to feed through the loopers. The jet air threading is also an amazing feature for saving frustration and time.
Built in Rolled Hem: I mention below with my older sergers, I would have to change the presser foot and the throat plate to achieve this stitch. A built in rolled hem eliminates this. You simply turn two dials and take out one of the needles, that's it. 
Differential Feed: This feature makes it so you can achieve different things from ruffled lettuce edges to gathering and sewing spandex with ease. Click the link for a better understanding of this feature. 
How The Serger Sewing Machine Works
Unlike the sewing machine that uses a bobbin, the over lock has loopers that are fed by multiple cones of thread.
The loopers along with the needle thread, create loops that encase the fabric edge to give it that finished professional look. When you feed the fabric under the presser foot there is a knife that cuts the edge of the fabric and the loops are stitch around the fabric edge. 
There are machines that offer multiple stitches, for different effects. For example, two, three, four or five thread machines each have a different purpose. All machines indicate what stitches it is capable of achieving.
The examples below, 3 stitch, 4 stitch, and 5 stitch overlock.
Three Thread Stitch

Four Thread Stitch

Five Thread Stitch

The Rolled Hem

The serger sewing machine, also has a great feature for creating a decorative finish to your hems. It is call a rolled hem. This is different from the rolled hem on your sewing machine, as it is achieved by stitching a very narrow stitch that encases the edge of the fabric. YOu can use decorative threads to achieve Another reason this serger feature, you can use it instead of trim.
Trim is a wonderful added feature to a garment or project, but if you have spent a little more on the fabric and want to keep cost down, or you are making more than one dress for any event and again are looking to cut cost or speed up the time you're spending, a rolled hem is a great way to do so.
The photo shows a dress I made for my daughter. You can see I have used the rolled hem to add a decorative flare as well as to finish the hem.
My first Singer serger had this feature but I had to change the presser foot and the throat plate to achieve it. 

I have an older model Singer. I have to change my plate in order to use the rolled hem feature. A little time consuming, but I am glad to have it. This is my rolled hem plate in the photo.
Some of the newer sergers, have a built in rolled hem feature, such as my Baby Lock Imagine. I only have to turn two dials and the stitch is changed. A feature that I really like for obvious reasons. 

Serger Sewing Machine Tips
1.) Practice using your scraps
The serger tension will be different with each project.Play with the machine using scrap fabrics and adjust the tension dials accordingly. Check your tension each time you start a new project, on a scrap piece of fabric you will be working with. Each machine is unique, so the tension will be different with each machine. Use your machine manual, it is a wonderful guide line to help you get started. Have your manual handy at all times. I find I refer to mine regularly if I am learning a new type of stitch or haven't use a particular fabric in a while.
2.) Let the machine do the work.
You won't need to push or pull on the fabric, let the fabric feed under the foot without lifting the presser foot. The feed dogs will grab the fabric and pull it through on it's own. Occasionally however, you will need to lift the presser foot, to put your fabric under depending on the seam you are trying to achieve.
3.) Purchasing A Serger From a Dealer
The dealer usually will include lessons. Take advantage of this, you may find it most helpful to have someone to answer your questions. If you have acquired your machine else where, look into lessons at a local dealer. It may or cost a few dollars because the machine wasn't purchased from that store, but it would be well worth the money.
4.) Is your machine missing the Manual?
If you acquired your machine from another source other than a dealer and you don't have the manual, check online. Most companies will have a PDF version of their manuals right on the websites. If finding a manual this way is proving to be a challenge, call a local dealer, they can order one in for you, for just a few dollars depending on whom you buy it from.
5.) Do Not Sew Over Pins

Be careful not to sew over pins. Especially with the serger sewing machine, as the damage to the knives and to the timing of the machine, would be costly. Use few pins and watch for them as they approach the knives and be sure to remove themas you sew. An alternative for straight seams, would be to place the pins on the left of the presser foot.
6.) Securing The Thread Tail

Tie a knot before cutting the tail.
Liquid sewing glue. Place a portion of glue near the seam and cut tail.
Feed the tail through a large needle and then feed the needle through the seam without having to cut the tail.
Coverstitch Sewing Machine
My Janome Cover Pro

A newer machine that was introduced to the home sewer is the cover stitch machine. You can purchase a serger with this stitch built in, but I opted for a stand alone version for speed in my projects. I didn't want to have to switch needles etc. on my serger to then switch back when I was done. Also, if you have acquired an older model serger sewing machine that doesn't have this stitch built in, you can purchase a cover stitch machine separately as I did. 
The cover pro machine is great for knit fabrics, the feed dogs are created to feed the fabric through with out pulling. The result is even, smooth seams.
It offers a very professional finishing touch to all knit fabrics. There are other makes and models to choose from of course, this just happens to be the one I have. 
The photos show example of both the cover pro machine and the stitches it creates.
For a history on the sewing machine, leave serger sewing machine page and go to who invented the sewing machine.